The Ultimate SEO Guide For Managed Service Providers
Welcome to our comprehensive MSP Local SEO Guide, designed to help Managed Service Providers (MSPs) like you enhance your online presence and attract local customers. In today's digital landscape, a strong local SEO strategy is essential for boosting your IT business and gaining an edge over competitors. In this guide, we will provide you with valuable insights and practical techniques to optimize your website and improve your local search engine rankings.
Discover the comprehensive SEO strategies for MSPs included in our ultimate guide:
Understanding MSP SEO: A primer on on-site local SEO for MSPs
Targeting Keywords for Your MSP or IT Services Business
Optimizing Your Services Pages: Effective Keyword and Location Targeting
Unique Content for MSP Services Pages: Importance and Creation Techniques
Local Business Schema: Enhancing MSP SEO with Schema Markup
Relevant Local Citations for MSPs: Industry Citations That Truly Matter
Creating and Optimizing Your MSP's Google Business Profile
Generating Reviews for Your Google Business Profile
Expanding Your Online Visibility: Bing Places for Business and Facebook Listings for MSPs
Don't miss out on this invaluable resource for MSPs. With the ultimate guide, you'll gain the knowledge and tools needed to unlock the full potential of SEO optimization for your MSP or IT Services business.
MSP SEO: A Guide to On-Site Local SEO for MSPs in [City]
MSP SEO, or Search Engine Optimization, plays a vital role in helping search engines like Google and Bing easily locate and comprehend essential details about your MSP website. If you're an MSP or IT services business owner aiming to enhance website traffic and keyword rankings in your local area, also known as local SEO, this guide is tailored for you. By optimizing your website for local search, we can assist search engines in discovering the services your MSP offers and the specific city or area where your business operates.
To achieve effective local SEO, it's crucial to incorporate your primary keywords along with the targeted city(s) in both the title tag and H1 tag on your homepage and services pages. You might be familiar with these elements, as you've encountered them countless times, but perhaps you didn't realize their significance.
Let's start with the title tag, which is essentially the page's title and the blue text displayed by search engines on the search results page (SERP). Consider this example: "Managed Services Houston."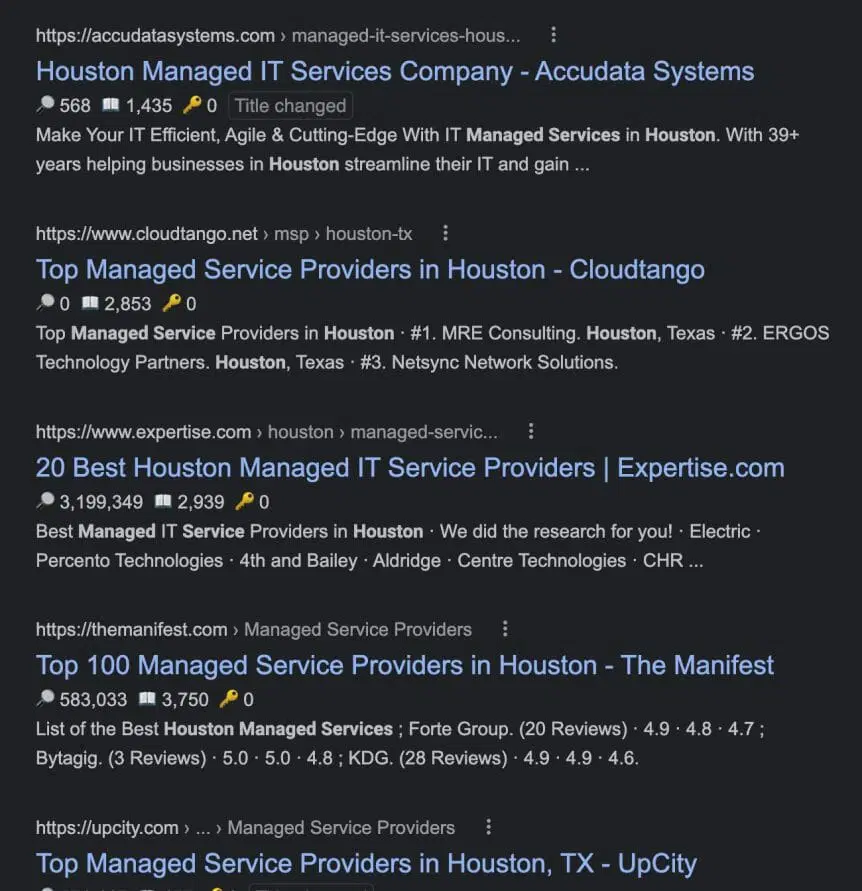 Utilizing the examples of the top search results, it becomes evident that incorporating the service keyword along with the location in the title tag is crucial. The title tag is prominently displayed on the search engine results page and appears in the browser's title bar. When you hover your mouse over a browser tab, you can observe the title tag associated with that specific page.
The H1 tag typically serves as the primary header on a page. In the case of WordPress sites, it is usually the page's title in the backend and acts as the main header on the live site.
If we examine the top-ranked result, Accudata Systems (displayed below), we can see that this MSP effectively utilizes their main services keyword along with the location in their H1 tag (Houston Managed IT Services Company). This strategy has yielded excellent results for their website.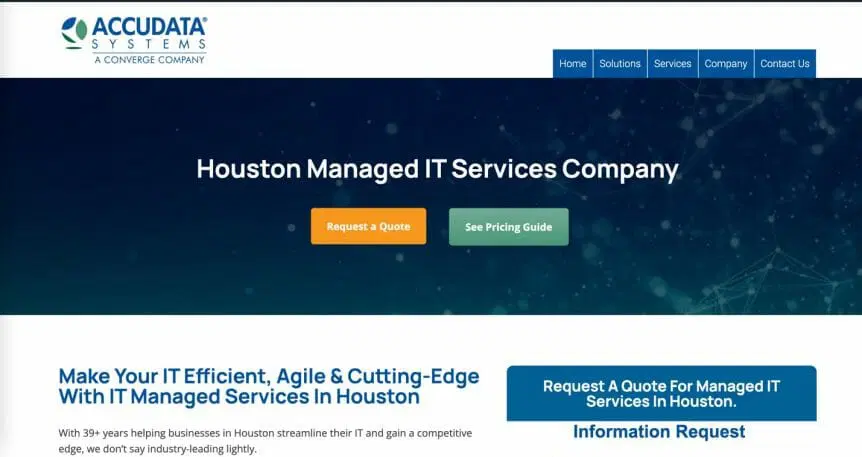 Including your company name in the title tag is a recommended practice. For instance, if your company is called Good IT Company in Nashville, your title tag could be structured as follows: "IT Support Services for Nashville & Franklin | Good IT Company."
It is also important to incorporate the same information in the H1 heading on your pages. Using the example above, the H1 on your homepage might appear as: "Good IT Company offers IT Support and Services in Nashville and Franklin, TN."
Regarding the character limit for title tags, there is widespread advice suggesting not to exceed 65 characters. However, Google's John Mueller himself has stated that title length is not a ranking factor. It is recommended to naturally incorporate your main keywords while avoiding keyword stuffing. Although search engines display only the first 60-65 characters of the title tag, they do read the entire tag.
Now, let's discuss the MSP and IT services keywords you should target.
Selecting the right keywords for each page is of utmost importance. In most areas, the following are the top IT services and MSP SEO keywords that your website and pages should focus on:
IT Support
IT Services
Managed IT Services
Cyber Security Services
VoIP Phone Services
Business Continuity Services
Cloud Computing Services
Co-managed IT Services
Consider incorporating long-tail keywords, which are longer and more specific phrases that are typically searched less frequently. However, due to their increased specificity, they have the potential to yield higher conversion rates.
In addition, creating dedicated pages to target long-tail keywords can significantly expand your website's visibility in search results, giving you a competitive advantage over rivals who may not have similar pages.
For MSPs, it is beneficial to focus on and develop pages around long-tail industry and vertical keywords. Here are some examples:
IT Support for Dental Practices
IT Support for Healthcare Practices
IT Support for CPAs and Financial Firms
IT Support for Municipalities
IT Support for Manufacturing
IT Support for Local Government
IT Support for K-12 Schools
As shown in the screenshot below, many MSP and IT services businesses are successfully implementing this strategy.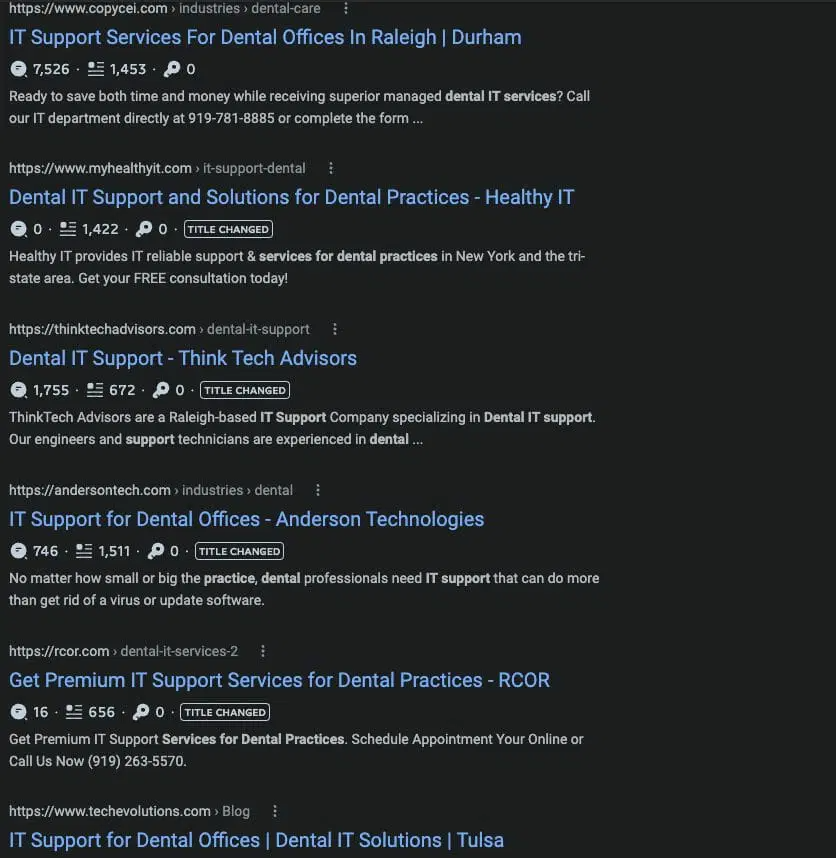 The formula of using "IT support + specific industry" applies to almost every sector. By focusing on these long-tail keywords and creating content that caters to your specific industries, you can gain a competitive edge and boost both website traffic and conversions.
How Do I Optimize My MSP Website To Target My Keywords And Location? 
It is crucial to employ a strategic approach when targeting keywords for each page. In most cases, it is advisable to focus on one keyword per page, particularly for your major services.
To optimize your MSP's website structure, consider adopting a format similar to the following (page – "targeted keywords"):
Homepage – "IT Support Services in [city]"
Managed IT Services – "Managed IT Services in [city]"
Cyber Security – "Cyber Security Services in [city]"
VoIP – "VoIP Phone Services in [city]"
Cloud Services – "Cloud Services in [city]"
HIPAA Compliance – "HIPAA Compliance Services in [city]"
By following this structure, you concentrate on one or two specific keywords per page. This approach not only enhances your MSP's SEO but also enables users to quickly and easily find the relevant information they are seeking.
Let's consider an example of what not to do, which we often come across:
Homepage – "IT Support" and "IT Services in [city]"
IT Support – "IT Support in [city]"
IT Services – "IT Services in [city]"
Location page – "IT Support Services in [city]"
Why Your MSP Services Pages Need To Include Unique Content And How To Create it
Creating unique and relevant content is crucial for setting yourself apart from competitors, enhancing your rankings, and effectively converting website visitors into customers as an MSP. Search engines aim to provide the most valuable and relevant results to their users.
When developing your MSP's website, it is essential to keep your user's questions and concerns in mind. Anticipating their inquiries and hesitations will allow you to provide valuable information and build trust, regardless of which page they land on. To achieve this, incorporating unique content on your services or industry pages is key. Consider including the following useful content:
Testimonials: Adding testimonials, particularly those relevant to the specific service, is an effective way to enrich your page's content and provide valuable insights to your users.
Case Studies: Utilize case studies to showcase your services and demonstrate your value proposition. You can even start by transforming testimonials into case studies. For instance, a case study could outline a client's network issue, the diagnostic process utilizing your tools, and how you successfully resolved it. Consider including the testimonial at the end to provide a comprehensive narrative.
FAQs: As an MSP, you possess exclusive knowledge about the common problems your clients face in your area. Take note of frequently asked questions from your clients or those received by your phone support team, and compile a list of FAQs. These questions often get searched on search engines, particularly when individuals are currently experiencing similar issues.
Some common FAQs for MSPs include:
What are Managed IT Services?
Who are Managed IT services for?
What's the difference between break-fix and managed services?
What is the cost of managed services?
What services are included?
Similar to your homepage, ensure that your services pages include relevant services keywords along with location-specific information.
Local Business Schema
 

And Why It's Important For Your MSP's SEO
Local business schema is a form of structured data that provides search engines with detailed information about your business. This schema is particularly useful for local SEO, as it directly supplies search engines with essential details about your business, including:
Name
Address
Opening hours
Email
URL
Description
Phone number
And more
There are two primary locations where MSPs commonly add local schema:
HTML in the footer: This is where the business name, address, and phone number are typically listed. By incorporating the local schema within the HTML code in the footer section, you can provide search engines with the necessary information.
JSON-LD in the header: Using JSON-LD (JavaScript Object Notation for Linked Data) in the header of your website allows you to embed the local schema data within the website's code, ensuring that search engines can easily access and understand it.
To simplify the process of adding local business schema to your MSP website, we recommend using a free schema generator. Fill out the form provided by the generator, and then copy and paste the resulting JSON-LD script into the header code of your website. It is important to note that you only need to fill out the relevant fields; there is no requirement to complete every field. If you leave the "business type" field blank, it will default to "LocalBusiness."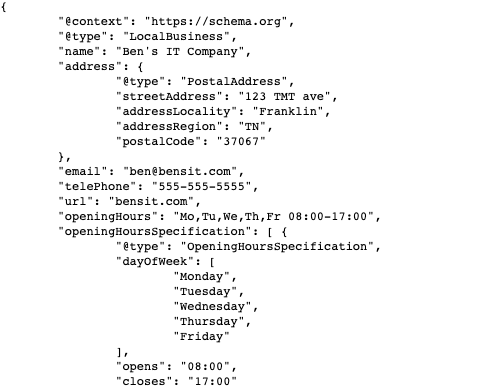 How to
Respond To Your Reviews And Ask Your Existing Clients For Reviews.
Getting reviews for your MSP on your Google Business Profile is beneficial for your SEO strategy.
The simplest way to obtain reviews is by asking your satisfied existing clients for their feedback.
You can generate a review link specifically for your Google Business Profile, which will directly take your clients to the review form on Google.
Regularly share the review link with your current clients, and consider adding it to your email signature as a gentle reminder during your interactions.
When it comes to positive reviews, a simple "thank you" is often sufficient to show your appreciation.
In the case of negative reviews, maintaining professionalism is key. It's important to apologize when necessary and offer to address the issue further by inviting the client to reach out via email or phone.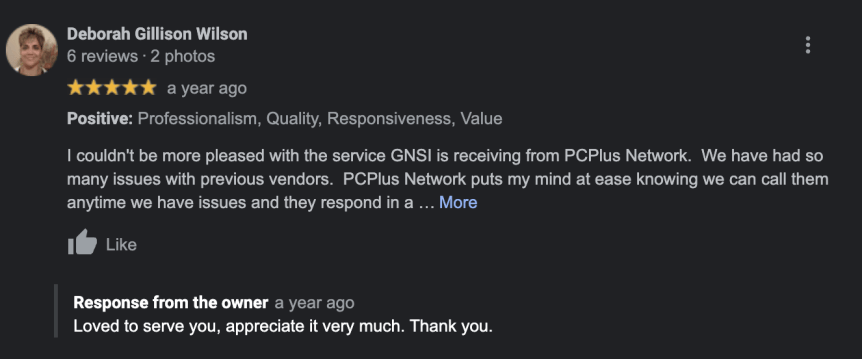 Google Business Profile For MSPs – How To Optimize Your Google Business Profile 
Having a Google Business Profile (formerly known as Google My Business) significantly impacts local SEO as it provides essential information about your MSP to Google. To ensure your business ranks on Google for relevant keywords, it is crucial to have an optimized Google Business Profile. Here's how you can achieve it:
Visit https://business.google.com/ and create your listing.
Select "Computer Support and Services" as your primary category and choose three relevant subcategories.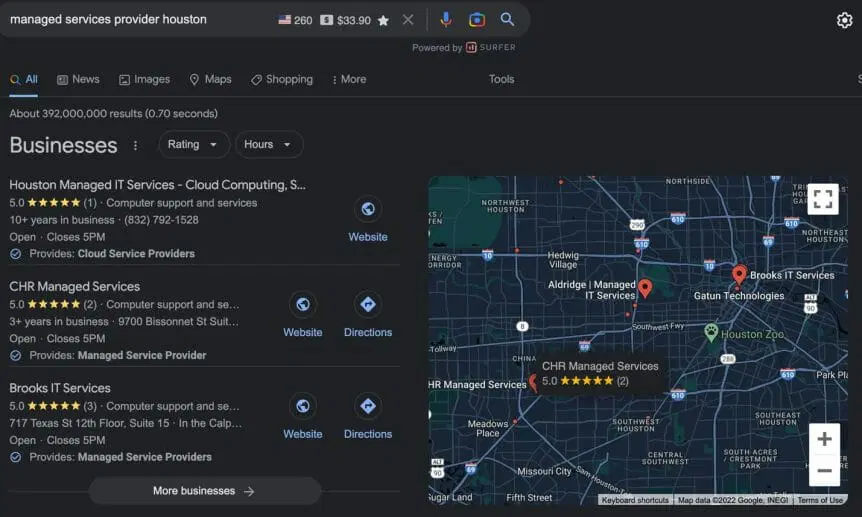 When selecting subcategories for your Google Business Profile, search for the services you provide and choose the most relevant options. Common subcategories for MSPs include Telecommunications Service Provider, Computer Consultant, and Computer Security Service. Avoid including irrelevant services in your subcategories.
Ensure you fill out all the necessary information in your business profile, including service areas, business hours, and detailed information. While it may seem time-consuming, an accurate and comprehensive profile will help you stand out from your competitors.
Be mindful not to overuse service areas. Include only relevant areas (you can add up to 20 service areas currently). You can cast a wide net by adding cities or be more specific by including zip codes.
When crafting your business description, make it unique and include your main services and service areas. Also, highlight your experience, qualifications, and how long you've been in the industry.
Utilize the services or products feature to list all the services offered by your MSP. This allows you to occupy more space on the search results page when users search for your business.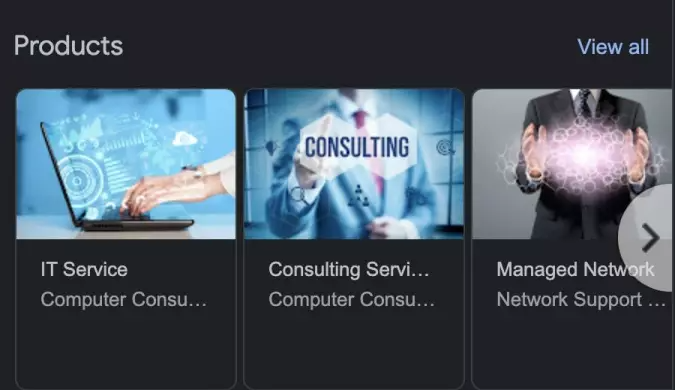 Including high-quality photos is an effective way to make your business stand out from competitors. It is recommended to include three exterior photos taken from different angles, along with interior photos, a picture of the owner, your staff, and your logo. Please note that stock photos are not allowed.
Google prefers images with a 1:1 ratio, and the ideal image size is 720×720, with a minimum size of 250×250.
To track leads generated from your Google Business Profile, you can use UTM codes in Google Analytics. Simply add "?utm_source=GMB" to the end of your website's URL.
In your Google Business Profile, there are two places where you can add your website. The first is the website field, where you can use the template "www.website.com?utm_source=GMB". The second is the appointment links field, where you can link to your website's contact page using a similar format, such as "www.website.com/contact-us/?utm_source=GMB".
I've Added The UTM code, How Do I See How Many Leads Are From My Google Business Profile?
To access Google Analytics, go to analytics.google.com and log in to your account. Once logged in, navigate to the left-hand side of the page and click on "Acquisition," then select "All Traffic," and finally choose "Source/Medium."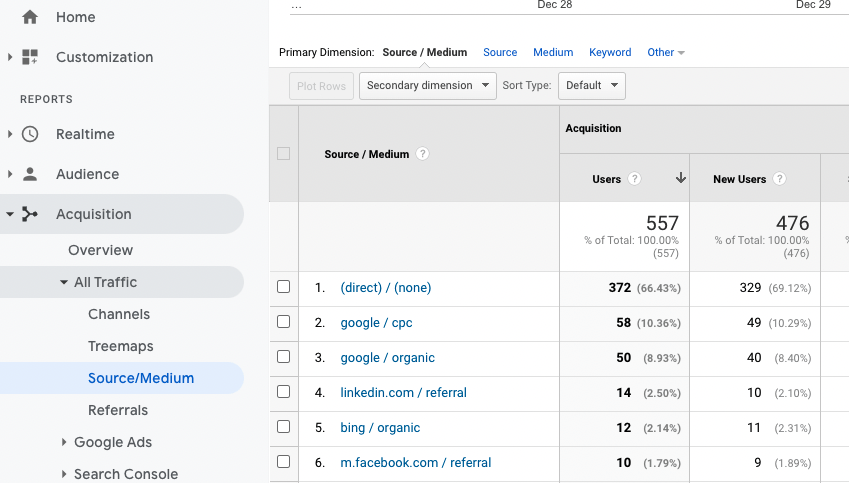 By following the steps mentioned, you will be able to view all the sources that have generated traffic to your website in Google Analytics, along with any completed goals. The source/medium column will display the newly added source, GMB (not visible in the screenshot).
Here's a helpful tip: Consider creating a Bing Places for Business account as well. Once you have set up your Google Business Profile, you can use the information provided below to easily import your business details into Bing.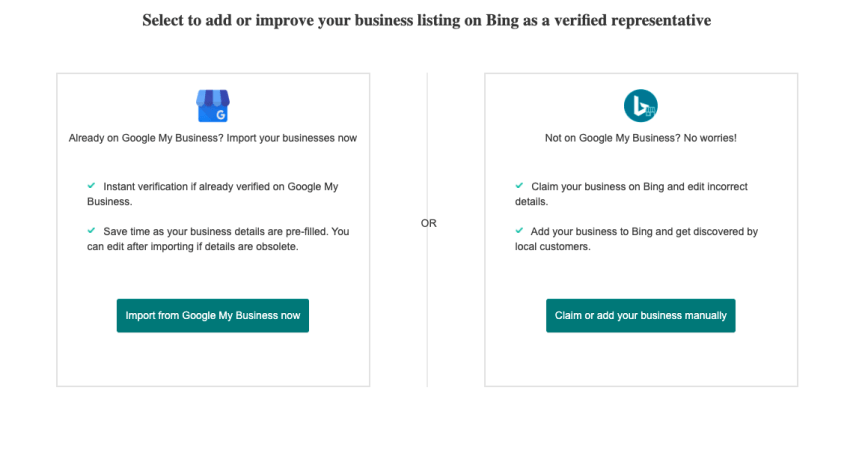 To create a Bing Places for Business listing for your MSP, please visit https://www.bingplaces.com/Dashboard/Home and click on "import from Google My Business now". This will guide you through the necessary steps to swiftly set up your Bing Places for Business listing.
How To Create A Facebook Page For Your MSP 
Having a Facebook page is crucial for your MSP SEO plan. To create a business page, you need to have a personal Facebook account. If you don't have one, you can find information on how to create a personal account here [insert link].
Once you have a personal account, go to facebook.com/pages and choose the option "create new page" to get started.

To create a Facebook page for your MSP, follow these steps:
Enter the name of your business and select the category. We recommend choosing "Information Technology Company".
Provide the remaining business details, including address, contact information, and business hours.
Click "Done" to create your Facebook page.
Create an Apple Business Connect Profile for Your MSP:
Apple has introduced its own version of the Google Business Profile called Apple Business Connect. This platform integrates with Apple Maps and enables businesses to connect with their customers. It offers built-in features that allow customers to get directions, contact your business, visit your website, or book an appointment.
Local Citations For MSPs – What Are They And How To Create Them 
A citation refers to any online mention of your business that includes your business name, address, phone number, and website (NAPW). Examples of citations include your Google Business Profile, Bing Places for Business, and Facebook Business account.
It is important to ensure consistency in your business's NAPW across various platforms, such as your website's footer, contact page, and other online listings you create.
To enhance your business's association with specific attributes, consider creating citations on websites that focus on listing businesses based on location, industry, and other relevant factors. Your local chamber of commerce is a notable example.
Here's how to create citations for your MSP:
Begin with three major aggregators: Factual, Neustar Localeze, and Express Update. These platforms can distribute your NAPW to various directories and websites, establishing a strong local SEO foundation for your MSP.
Next, search for niche directories that are specific to your location and industry or services. Your local chamber of commerce is a valuable resource for this purpose.
As a bonus, here are two MSP citation websites that list IT businesses based on location:
If your website is not listed on these platforms, take the time to create citations there to further enhance your online presence.